Lt. Kiran Shekhawat | First Navy Woman Achieve Martyrdom On Duty Line
A daughter was born on 1 May 1988 at the home of Vijendra Singh Shekhawat of Separaguvar, a small village in Khetri tehsil of Jhunjhunu district of Rajasthan. Her name was Kiran Shekhawat ( later be known as Lt. Kiran Shekhawat). At that time no one thought that this daughter would create such a history that the entire nation would be proud of.
Now she has the distinction of being the first woman officer of India to be martyred while on duty. Today we are referring to Kiran Shekhawat because five years ago we lost Kiran Shekhawat, a brave woman officer. She was martyred after the Dornier crash occurred in Goa on the night of 24 March 2015. She was found dead on 26 March and was given a final farewell on 29 March.
Kiran Shekhawat was an Indian Navy lieutenant. Kiran Shekhawat's childhood desire was to join the Indian Navy. Her dream was completed in the year 2010 when 22-year-old Kiran Shekhawat got enlisted in the Navy. After this she got married to Vivek Chhoker of Kutharla village in Mewat, Haryana. Her husband Vivek Chhoker is also a lieutenant in the Indian Navy. After marriage, this daughter of Sefaraguar in Rajasthan became the daughter-in-law of Kutharla in Haryana.
Kiran's father-in-law Srichand and father Vijendra Singh Shekhawat have also both served in the Indian Navy and are currently retired. Kiran's mother-in-law Sunita Devi is the sarpanch of her village. Apart from this, Kiran's sister-in-law Rajshree is the first woman pilot of the Coast Guard. Rajeshree, a resident of Nagaur, gave Kiran Shekhawat a guard of honour at the funeral when she was martyred, which Rajshree considers the most difficult salute of her service.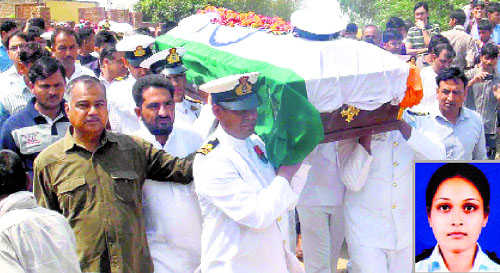 Lt Kiran Shekhawat boarded the Dornier aircraft on 24 March 2015. The plane crashed in Goa the same night. Her body was searched for two days and then on 26 March, he was found. On March 29, thousands of people attended Kiran's funeral in the in-laws Kutharala village. Everyone was coming forward to pay respect to this brave woman in the country. Her last farewell was done with great respect. Her husband Vivek Singh Chhoker performed her last rites.
Before getting martyred along with the duty line. Kiran Shekhawat had created history at Rajpath in Delhi. Kiran Shekhawat also led a women's naval contingent on the Rajpath at the Republic Day celebrations on 26 January 2015, two months before the martyrdom.
Many Armed Forces Heroes sacrificed their lives during wartime but it is very rare to see few Sheroes like Lt. Kiran  Shekhawat who got the honour of getting martyred on duty line. Bharat Maa will always be proud of her daughter and the countrymen will always remember her.