AFCAT SSB Interview Dates 2021 : AFCAT 2 2021 written exam result has been released on 17th September 2021. It was conducted from 28th August to 30th August 2021. Now selected candidates who have successfully scored the minimum qualify marks, i.e. cut off marks will appear for the SSB Interview round.
In this blog, we would be notifying regarding AFCAT SSB Interview dates and how to register for AFSB Interview (SSB interview round).
Firstly, let's check out the AFCAT SSB Interview Dates which is given as per the schedule mentioning the entire schedule consisting of Exam Date, Category, Seats and AFSB name.
AFCAT 2 2021 SSB Interview Dates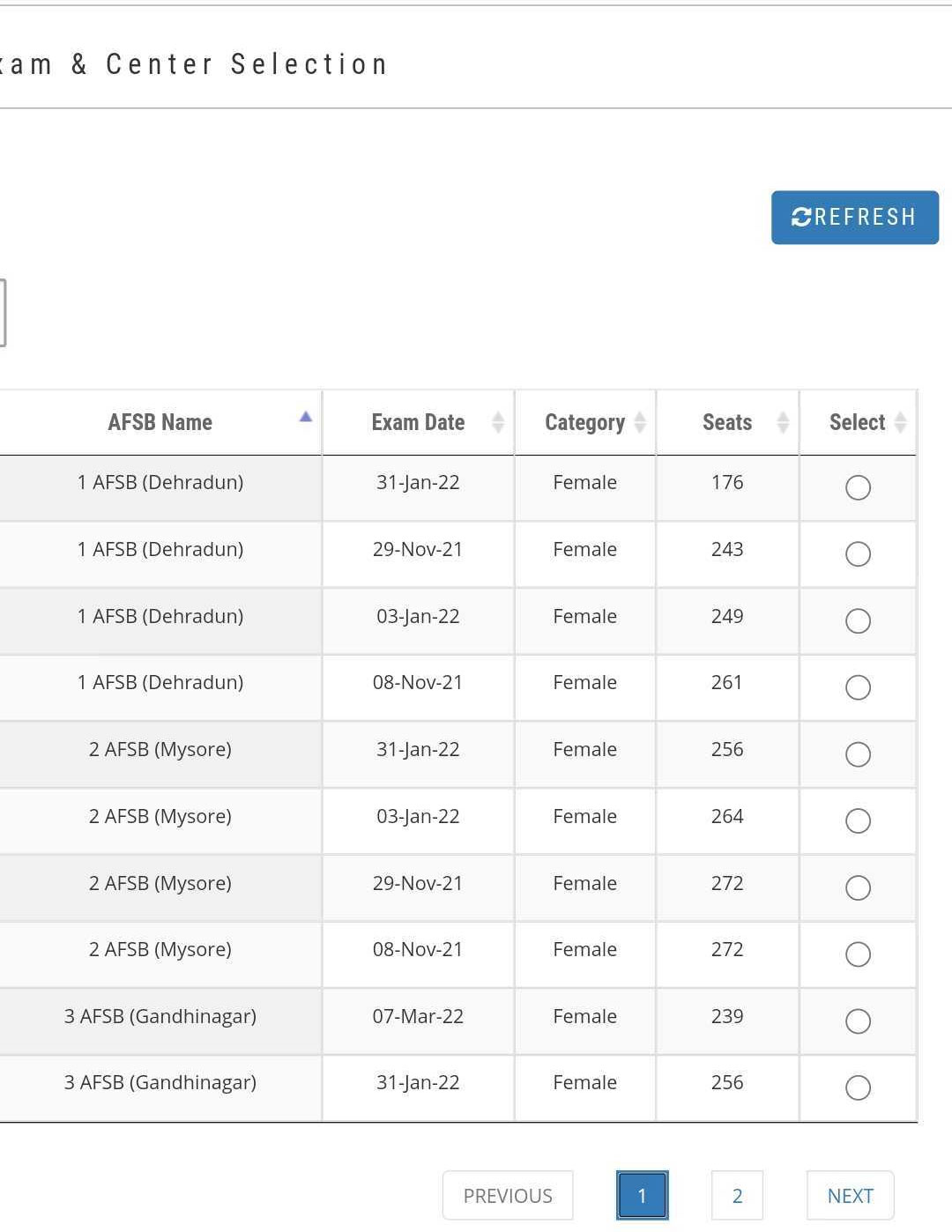 Following are the names of AFSBs which the candidates can select for the SSB Interview :-
– 1 AFSB Dehradun
– 2 AFSB Mysore
– 3 AFSB Gandhinagar
–  4 AFSB Varanasi
–  5 AFSB Guwahati
---
How To Select The Best AFSB Venue ?
All AFSBs are equal in terms of testing, wherever you go, you have to perform. So the best criteria while selecting the AFSB is the distance and date. Select the nearest AFSB and the convenient date to make your journey comfortable.
How To Select AFSB Date & Venue ? 
This option is only available for the candidates who have cleared the AFCAT exam. Below are the steps to follow.
Visit the official website AFCAT CDAC and from the top menu, select the correct AFCAT cycle option.
Now, enter your AFCAT login ID and password, in case you forget the password, you can reset it.
Once you login, click on the Result and AFSB selection option as seen in this image.
You can see your AFCAT marks and cut off. Below you can find the AFSB Selection process button, click on the button to proceed.
Click on I have understood the process
Now you need to do seat selection, add bank details for TA and download your Call Letter.
The AFSB seat selection for venue and SSB date would look like this.
Once you select the date it will show your AFSB venue and date.
Now, add your bank details for TA.
Check the acceptance and add your bank details.
Now, you can download your AFSB call letter and other documents like COVID-19 undertaking.
Save and take a print out of your AFSB call letter, also follow the instructions mentioned in the call letter.
Download and fill the declaration form.
Download and fill the COVID-19 undertaking form.
---
PREPARE SSB INTERVIEW WITH THE BEST Defence Coaching- Trishul Defence Academy
If you want to get full success with flying colours in the final important round of SSB Interview Join Trishul Defence Academy- Northern India's #1 Defence Coaching Today.
Under the guidance of SSB Master Colonel Pankaj Mehrotra (Ex-NDA, Ex- IO) 11 34 SSB, Allahabad & 21 22 SSB Bhopal, prepare for each and every test of SSB with full expertise. Ranging from written, psychological or group tasks, with TDA you are determined for success
With the inspiration of Trishul's founder Late Wing Commander Anoop Mehrotra Sir, we proudly announce admissions for the SSB interview preparation course for the academic session of 2021-22. Come join us today for the ultimate success in SSB.
Connect with Trishul Defence Academy for the latest updates, notifications.
Call and connect with us to book a seat for yourself for the upcoming batch of 2021-22. Special discount offer on booking at the earliest. 
For any query/enquiry you can connect us via following ways: –
Get Latest Blog On – blog.trishuldefenceacademy.com
Facebook –https://www.facebook.com/trishuldefenceacademy
Twitter – https://twitter.com/trishuldefence
Address : Ground Floor, Gayatri Dham, Millan Tower, Civil Lines, Prayagraj, Uttar Pradesh 211001
Phone: 084000 83030