Airmen Star 01/2021 Exam Date  : Indian Air Force has officially declared the Airmen Star 01/2021 exam date. The online examination will be held from 12-18 July 2021. It is to be noted that the entrance examination for Group X & Y was earlier postponed due to corona pandemic.
As we reported 24th June, the exact dates have been finalized for the reschedule of exam dates. The wait of many Air Force aspriants is finally finished. The exam date and city name is available in login. However the admit card will be available for download only 24-48 hours prior to the exam date.
The official website is – airmenselection.cdac.in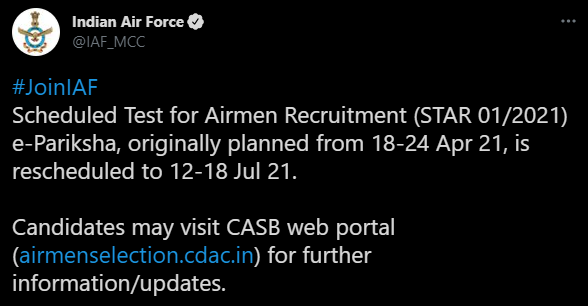 ---
---
Airmen Star 01/2021 Exam Date Official Statement:
STAR 01/21 Online Examination which was originally planned from 18-24 Apr 21 was postponed due to COVID second wave. Online examination is planned pan India from 12 Jul 21 to 18 Jul 21.
Note- Candidates are advised to visit CASB web portal airmenselection.cdac.in) regularly for further information/ updates.
---
Prepare For Airmen Star 01/2021 Exam With Trishul Defence Academy
 
Do you wish to join the Indian Air Force? To serve the nation, the sky is the limit for you and what better option is there than to embark a career journey in Indian Air Force.
Trishul Defence Academy, the best defence coaching institution in Northern India will help you make your dreams come true. Enroll yourself today to prepare for Air Force Entrance Exams 2021- AFCAT, AIR FORCE X AND Y GROUP, NDA, CDS.
Our dedicated and experienced faculty will provide the determined candidates with full overhaul training ranging from online classes, personality development sessions, crash course, physical training, mock tests, and much more.
Call and connect with us to book a seat for yourself for the upcoming batch of 2021-22. Special discount offer on booking at the earliest. For any query/inquiry you can connect us via the following ways: –
Read More Blog On-  blog.trishuldefenceacademy.com
Facebook – https://www.facebook.com/trishuldefenceacademy
Twitter – https://twitter.com/trishuldefence
Address- Gayatri Dham, Millan Tower Behind Max Mall, Civil Lines, Allahabad, Uttar Pradesh 211001
Mobile No- 8400083030