Tehri Lake Festival 2021 : For the first time at the Tehri Lake Festival, ITBP, BSF and Indian Army soldiers performed many spectacular feats in adventure sports. Army jawans performed para-jumping, sky-diving, etc. by helicopter. Also, kayaking, canoeing, water scooters, speed boats also performed better in the lake. The mountain bike rally competition was also held during this period.
Deepak Mehta I, Mohit II, Harshit Joshi III were in the Mountain Bike Rally Men's category organized at the festival. While in the women's category, Anjali Bhandari came first and Shivangi Rana came second. In kayaking, Prabhat Kumar, Vivek Chauhan, Kapil Kumar were first, second and third respectively in singles. Nitish Panwar-Ashish Sharma was first in the double, Kapil-Ankur was second, Ravi Singh-Mohammad Salim was third.
Govind Verma, Salim, Johnson finished first, second and third respectively in singles in Kanoing. In the double, Ravikant Singh-RH Singh, Govind Verma-Badal Kumar, Salim-Ajaypal finished first, second, third respectively. In the women's section, Pooja Chauhan was first and Anju second.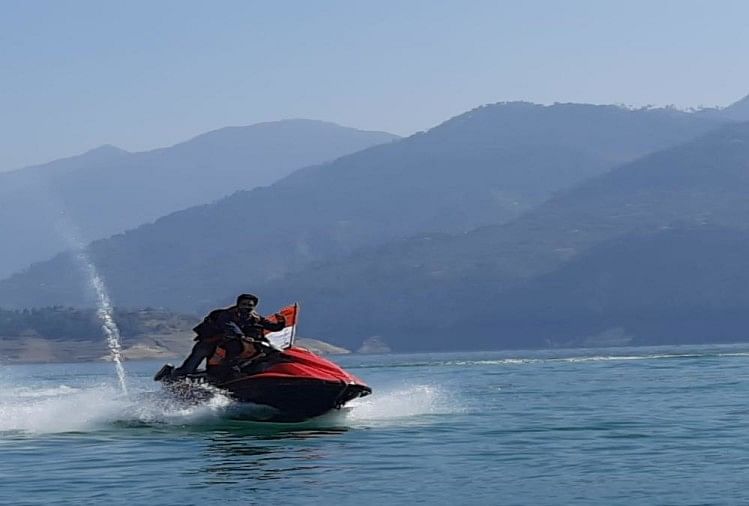 The troops under the leadership of Colonel Nagpal of the Army's Palampur Adventure Center showed sky diving, hot air balloon, paramotor and many other tricks by helicopter. The jawans led by ITBP inspector Vikram Singh performed several sports including kayaking, canoeing and paragliding led by BSF Deputy Commandant BS Chauhan.
The Tehri Lake Festival was launched by Chief Minister Trivendra Singh Rawat. Before the program was launched, he paid tribute to the dead in Tapovan disaster. He said that the government was in a state of confusion about the festival, but the government decided that we will fight the disaster and move forward.