Artificial Organ Camp : Indian Army has also come out as a helper for the people of Keran sector, who become the support of the soldiers near the LoC. The Army gave new life to many people by setting up an artificial limb fitment camp at Farkian Gali in Kupwara, about 125 km from Srinagar at an altitude of about 10,000 feet.
The local people of Kupwara, the frontier district of North Kashmir, often help them in every task by staying with the Indian Army. Many work as porters. But during this time the people of these areas adjoining the LoC often become the target of the enemy directly or indirectly. Sometimes their houses are destroyed in Pakistani shelling and sometimes they have to lose their lives too.
Sometimes they have to be the target of the gunpowder laid for the enemy. For many such local people, the Indian Army set up a camp in Farkian Gali. In this 76 victims were helped. People from villages like Keran Pine, Keeran Bala, Mandiyan, Naga, Tringaniyan, Kalas, Bani, Kundian, Patro, Daddar, Kralpora, Ready, Chowkibal, Mapta, Warsanu etc. reached.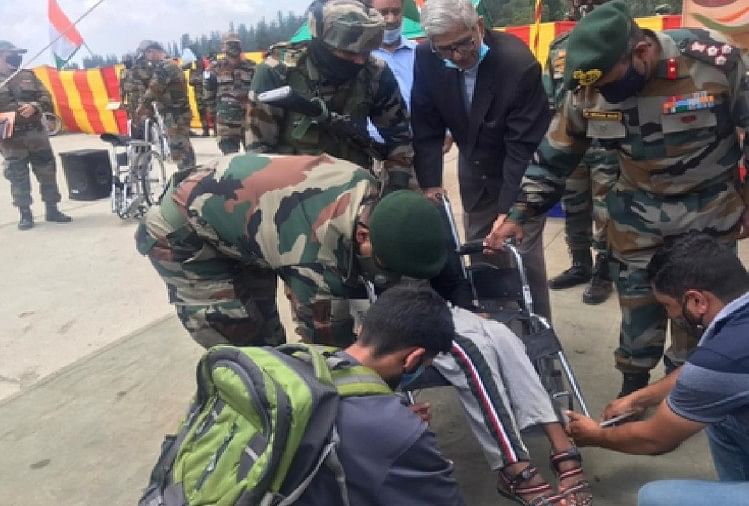 Colonel Deepak Deswal, commanding officer of the six Rashtriya Rifles of the Army, said that the Army, in association with Bhagwan Mahaveer Viklang Sahayata Samiti (BMVSS), a voluntary organization of Jaipur, organized an artificial limb fitment camp at Farkian Gali. In this, while serving the country along with the army, help was given to the people who lost their organs in the mine blast. At the same time, many beneficiaries also came to the camp who due to living in remote areas, they could not get this facility till date. Deswal said that the main purpose behind his help was to overcome this deficiency of those who are disabled, who have abilities, but due to physical disabilities, those people are not able to work at full capacity.
According to DR Mehta, Chairman, Bhagwan Mahaveer Viklang Sahayata Samiti, the camp included identification of people in genuine need of medical aid devices, setting up of artificial limb facility, molding and casting of organs and customized fitting of the same on the beneficiaries. The service was absolutely free. Mehta told that his organization is the largest such institution in the world which helps the disabled.
He told that in 2019, the committee has installed about 31000 artificial legs. Army along with the committee distributed 5 types of medical aid prostheses, wheel chairs, calipers, crutches and hearing aids among the local people. 750 handicapped were helped in the fitment camp. Most of these beneficiaries were those who were victims of mine blasts along the LoC. A total of 11 artificial legs, 17 wheel chairs, 5 calipers, 8 crutches and 35 hearing aids were distributed in the camp.