In the midst of the ongoing border dispute with China in eastern Ladakh, the Indian Army is constantly on alert and the soldiers are ready to face all kinds.
If the enemy on the border tries to cross the border with bad intentions, then the soldiers of the Indian Army will eliminate them in the blink of an eye. Meanwhile, army personnel tested their preparedness through exercises in Eastern Ladakh on Thursday and gave a message to the enemy to stay within limits.
For the security of Ladakh, the 14th Corps of the Indian Army, deployed on the Chinese border, tested its preparedness through a massive exercise of tanks in an altitude of more than 15000 feet. On this occasion, Corps Commander Lt Gen PGK Menon was also present in this exercise.
During the exercise, the soldiers of the Indian Army showed their readiness to fight the war by firing accurate shells on the target. Tanks like T-90 Bhishma and T-72 Ajay of the army showed their firepower during the war exercise, whose roar crossed the border and reached the Chinese army.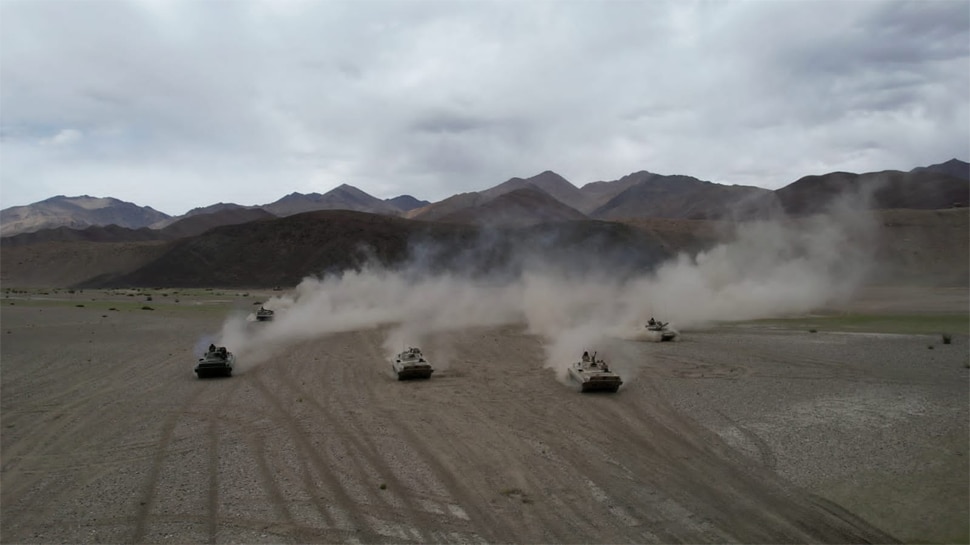 ---
---
Commander Lt Gen PGK Menon interacted and encouraged the soldiers of the Armed Regiment of the Army who showed aggressive attitude in this exercise along the Line of Actual Control (LAC) in Eastern Ladakh.
The dispute over the Line of Actual Control (LAC) between India and China began in May last year, when China objected to the construction of a road by India in the Galwan Valley of Aksai Chin in Ladakh. On May 5, a military standoff broke out after a violent clash between the Indian Army and Chinese soldiers.
After this, on May 9, Chinese soldiers also got entangled with Indian soldiers at Nathu La in Sikkim, in which many soldiers were injured. After this, on June 15, there was a clash between India and Chinese soldiers in the Galwan Valley of Ladakh, in which 20 Indian soldiers were martyred.