Aero India 2021 Day 1 : 13th Aero India -2021 show has begun in Bengaluru. This time the air show is very special. Many indigenous aircraft from Tejas are performing at airshows this time. This time, many countries around the world are seeing the strength of India in Aero India.
On the first day of the air show, an agreement was also signed with HAL to take 83 Tejas jets of Airforce. Apart from this, the Sarang Aerobatics helicopter team and Suryakikaran team got together for the first time. Defense Minister Rajnath Singh and Chief of Defense Bipin Rawat were present on the occasion. Due to Corona, this time the show has been shortened to three days. This air show will end on 5 February.
American B-1B Lancer Aircraft also participated in the program. The aircraft took 26 hours to fly to Bangalore from an air base in South Dakota, USA.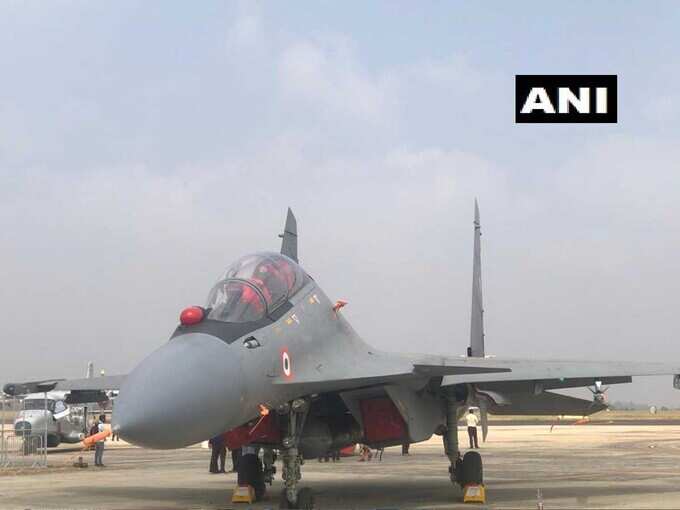 Aero India shows happening in Bangalore is special in many ways. Earlier, people from abroad used to showcase their technology by bringing it here, and the industry here used to get hands-on technology with them. Now showcasing India. This time the light Combat helicopter produced by HAL is showing in the show. In these helicopters, where the smoke comes out, it is called stuff wings. Which have hard points in which weapons are loaded. The rocket or missile is loaded here.
The air show also featured an equipped Su-30 MKI fighter jet from the air-launched version of the BrahMos supersonic cruise missile. A dedicated squadron of the Air Force is equipped with these missiles that can fire at distances of more than 400 km.
At Aero India, the Sarang Aerobatic Helicopter team and Surya Kiran team are performing together. Till now the two teams used to do different aerobatic but this time the helicopter and fixed-wing display flights are performing together. All helicopters are from India only. Advance light helicopter Dhruv has been converted into the aerobatic team. During this time the pilot demonstrated skill ability and concentration.
Starting from 3 February, this Aero India show will run till 5 February. This Aero India show of the Ministry of Defense takes place once in two years. It is the largest air show in Asia. In which, from the manufacturing company of aviation sector to India's Airforce, there are also representatives of Airforce from many countries of the world.
What new technology has come in the defense avishn in the world, as well as if any new technology or equipment is discovered according to the need of the Airforce, then it is a platform where all the information related to it is available. This time due to Kovid-19, common people will not have an entry in Aero India but they can watch the virtual Aero India show.